Saturday, October 29, 2011
Former Marine / Iraq War Veteran Shot in Head with Tear Gas Cannister by San Francisco Sheriff's Office ESU Officer
Scott Olsen 'cannot talk' after injury at Occupy Oakland protest
Iraq war veteran is believed to have sustained damage to speech centre of his brain in injury at Occupy protest on Tuesday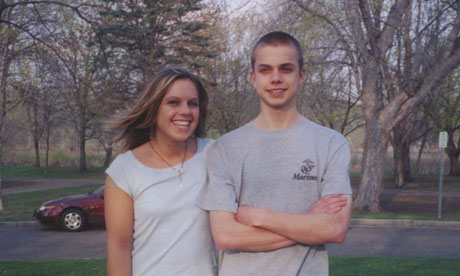 Scott Olsen, the Iraq war veteran who was seriously injured by a police projectile during a protest in Oakland, has regained consciousness but "cannot talk".
Olsen, 24, is communicating with friends and family at his bedside by writing notes, but his injury is believed to have damaged the speech centre of his brain, according to Keith Shannon, who served with Olsen in Iraq.
Olsen is believed to have been injured by a police projectile. He was hit in the forehead in downtown Oakland on Tuesday evening, after marching with fellow demonstrators to protest the closure of an Occupy Oakland camp in the city.
"He cannot talk right now, and that is because the fracture is right on the speech center of his brain," said Shannon. "However, they are expecting he will get that back."
Shannon added that Olsen's "spelling is not near what it used to be".
"The doctors expect that he will have a full recovery," said Shannon, who is due to visit Olsen on Friday afternoon. "However, it is going to be a long road ahead for him."...[Full Article]

--------------------------------------------------------------------------------------------



Marine Vet wounded, tear gas & flash-bang grenades thrown in downtown Oakland
http://www.youtube.com/watch?v=cMUgPTCgwcQ
--------------------------------------------------------------------------------------------
The San Francisco Sheriff That Shot Scott Olsen
According to @CabinCr3w on Twitter this is ESU Officer Bergstresser who shot Veterans for Peace protestor Scott Olsen in the face with teargas grenade.

---------------------------------------------------------------------------------------
Friday, October 28, 2011

VIDEO: Who shot Scott Olsen at Occupy Oakland?
Video reveals San Francisco Sheriff officers on front line when Marine Scott Olsen was shot at Occupy Oakland. An Oakland officer can be heard on the loud speaker giving commands. More photos below.
Marine Scott Olsen and Navy Joshua Shepherd, Veterans for Peace, face police minutes before tear gas canisters were fired directly at them. See video below. Screen capture by Censored News.
Censored News
http://www.bsnorrell.blogspot.com/
Update:
San Francisco Sheriff's officers on center front police line, during shooting of Marine Scott Olsen have been verified, by way of an official list of officers.They are San Francisco Sheriff Emergency Services Unit (ESU) officers Scott Bergstresser, Ceciel Yambao and Hugo Aparicio.
OAKLAND, Calif. -- US Marines are gathering evidence to prosecute the officers who shot fellow Marine Scott Olsen, member of Veterans for Peace, at Occupy Oakland on Tuesday night. Scott was standing in front of police to protect the people behind him, when police fired directly at him.
Scott suffered a skull fracture when a police projectile struck him in the head. After Scott was down, and people rushed to help him yelling for medics. Police threw a flash grenade at Scott after he was unconscious and bleeding from the mouth and head.
A video reveals that the San Francisco Sheriff's Emergency Services Unit (ESU) were on the front police line at Occupy Oakland when the tear gas canisters were fired. The video below shows San Francisco Sheriff ESU team member Scott Bergstresser, (whose uniform has two stripes) next to officer Ceciel Yambao.
"Multiple copies of the videos used to ID Yambao, Bergstresser and officer Hugo Aparicio are on servers. Too late for YouTube takedowns," according to a Twitter message today.
"Two questions that Bergstresser should be asked under oath: Did you fire directly at Scott? Did you throw a grenade?" At minimum, Bergstresser is a witness.
The video reveals one of the officers striking his baton at a disabled woman before the gas attack began. An Oakland officer in the background can be heard giving commands on a loud speaker.
A separate series of photos details the events when the teargas was fired:
http://www.dailykos.com/story/2011/10/27/1030750/-UPDATED:-Oakland-Mayor-Quan-Prosecute-This-Cop-or-Resign:-Photo-Evidence,-Scott-Olsen-Shooting
[
Full Article
]
Labels: Occupy Oakland, Scott Olsen
Subscribe to Posts [Atom]